Sushi 101 For Beginners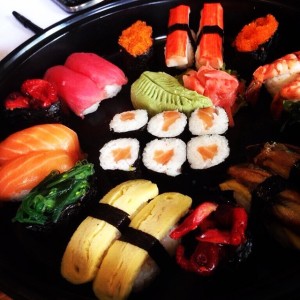 The wonderful world of sushi, with its bold palates and exciting flavors will fascinate you as well as tickle your taste buds. From the reds of fresh raw fish, to the intricate greens of freshly cut cucumber, sushi will delight both the eyes as well as the tongue. It is an experience to be enjoyed and one of life's pleasures. Anyone who is enrolled in a sushi 101 course will appreciate a field trip to a sushi bar. Sushi for beginners usually consists of a California roll, which is a tasty yet safe dish, which most people enjoy.
As one becomes more experienced and sophisticated, they may try raw tuna, sea urchin and the tasty cooked shrimp. Most sushi is made of rice, a seafood dish like fish, shrimp or other delectable gifts from the sea. Sometimes you will find a sea urchin, an eel or a squid. There is the elusive puffer fish, which is poisonous, and not a sushi for beginner's dish. Sushi is a healthy food choice that is delicious. Most sushi is made of a strip of raw fish a small amount of wasabi and sushi grade rice. It is sometimes enjoyed with beer, but not in excess. Sushi for beginners is usually focused on the rolled type sushi, like the ever popular California roll. These roll sushi have a variety of vegetables, imitation crab, and eggs and enjoyed by many people. There is the Inari sushi that resembles a football with rice inside it.
Most large cities have many sushi restaurants and Japanese markets sell sushi. There are expensive sushi bars where bills can reach into the several hundreds and the more affordable conveyor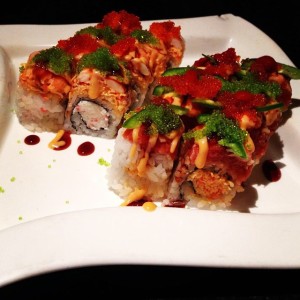 type restaurant s which prices are more reasonable. A trip to a Japanese market may surprise the sushi for beginner as sushi can be bought in plastic lunch and dinner trays. Sushi etiquette is important and the sushi 101 student should approach the sushi chef with respect and politeness. The chefs generally can read a person and can take care of your edible treats, as he seems fit. In other words, he will customize your meal. Sometimes this is a series of plates of delectable treats with two sushi on a plate.
The chefs try to create a pleasant eating experience to satisfy and to challenge you. Other tips on proper sushi etiquette involves using a wash cloth to keep hands clean, eating the sushi in one bite which can be a challenge at times and going light on the soy sauce. The perfectly shaped morsels seem to fit the mouth perfectly and can be eaten in one bite with no problems that is unless there is a large amount of wasabi on it, which is the equivalent to hot sauce. This is a sinus clearing kick and must be approached with respect and caution.
Most sushi bars are open for both lunch and dinner but rarely if ever open for breakfast. It is best to read reviews and to ask friends for recommendations before embarking on a trip to a sushi bar as each one has its own feel and personality. Some chefs and their staffs are respectful and understated while others have been known to yell a welcome that my take the beginning sushi connoisseur off guard. Entering the world of sushi is a journey of discovery of tantalizing tastes and flavors. A trip to a sushi bar is an enjoyable time of socializing and enjoying a meal. Some foods like natto, wasabi may make us do a double take, but otherwise this is a taste pleasure that enjoyed by many people that appreciate Japanese culture.